X2 tickets/Tickets Elton John Verona * Slab Gold * Second Row/Second Row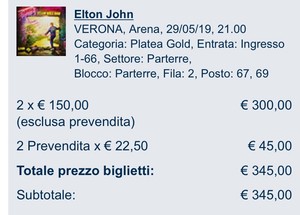 ---
*TICKETREPLAY*
UNICA coppia disponibile
Fila/row: 2
ELTON JOHN
ARENA DI VERONA
29 Maggio 2019
-PLATEA GOLD-
Seconda Fila/Second row
BIGLIETTI AD UN PREZZO INTROVABILE, IN UN'AREA ESCLUSIVA SOTTOPALCO
PREZZO RIFERITO AD UNA COPPIA DI BIGLIETTI!
DA OTTIMA VISUALE, POSTI VICINI
 CONTATTAMI TRAMITE MESSAGGIO PER EVENTUALI ULTERIORI INFORMAZIONI 
DISPONIBILE FATTURA DI ACQUISTO PER COMPROVARE LA REALE ORIGINALITA' DEI BIGLIETTI,
THE PRICE IS REFERRED TO 2 TICKETS
TEXT ME TO GIVE A VIEW TO MY TICKET INVOICE CONFERMATION AS PROOF OF MY PURCHASE
4 MOTIVI PER FIDARTI
1) Accetto pagamenti PayPal per via delle garanzie che offre negli acquisti online, sia per acquirente che per venditore con il suo programma di protezione per gli acquisti online 
2) spedizione veloce e sicura, servizio tracking per monitorare online gli spostamenti
3) feedback 100% positivi 
4) rimborso in caso di spedizione danneggiata o dispersa,
 100% safe and guaranteed payment, you'll be entirely refunded in case of cancelled event / lost shipping / damaged tickets due to shipping
100% positive feedback as proof of my reliability
-PAGAMENTO-
Il prezzo dell'inserzione è relativo a 2 biglietti, per concludere correttamente l'acquisto,
seleziona
 quantità 1 per scegliere l'acquisto di due biglietti
 Metodi di pagamento: 
1) Paypal (metodo automatico)
2) Bonifico (contattami prima di procedere)
3) Ricarica carta (contattami prima di procedere)
 I accept PayPal or Bank Transfer payment for foreign purchases
The price indicated is for 2 tickets, text me to know how to grab a discount
Spedizione raccomandata 1 veloce: tracciabile e sicura!
Consegna in 24/48 ore in italia, 8-10 giorni in tutta Europa 
I TEMPI DI IMBALLAGGIO PRESENTI NEL SEGUENTE ANNUNCIO SONO INDICATIVI, SPEDIRO' I BIGLIETTI NON APPENA TICKETONE.IT AVRA' EVASO IL MIO ORDINE
 I ship tickets all over Europe. 
-CONTATTI-
  Sono a disposizione per qualsiasi domanda o necessità tramite messaggio privato